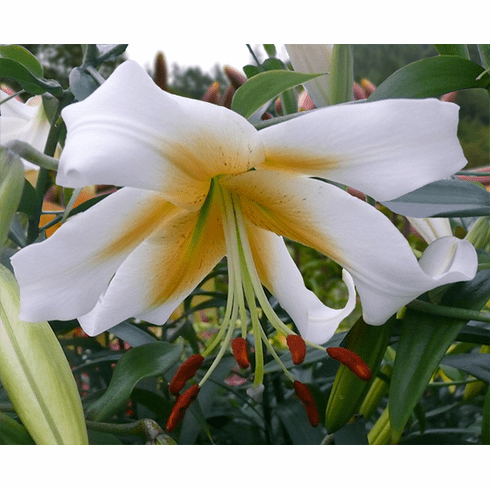 Mister Pistache - Orienpet Hybrid
You save
$4.00
on quantity of 6 bulbs over "each" price on this variety.

Fragrant. 4 to 5 Feet. July / August Flowering.
Stunning, large semi-pendant flower with graceful white petals that are highlighted by a soft to medium golden apricot/orange center. Similar in appearance to its sister hybrid 'Mister Cas', Mister Pistache we feel has a more "mystical" appearance in the garden. Availability dependent on harvest. 3 to 4 Feet. July / August Flowering. Fragrant.
Very Limited Supply for Spring 2023
Bulb Size
- Our standard for bulbs of this Oriental Hybrid Lily Bulb cultivar ranges from Premium-size (16/18 cm) to Exhibition-size (over 18 cm). Click
here
for details.
Classification: Orienpet Hybrid Lily Bulb(USDA Zones 5-9, colder climates w/winter mulch.)
Stock # 9009 - 'Mister Pistache' - Orienpet Hybrid Lily
Related Items