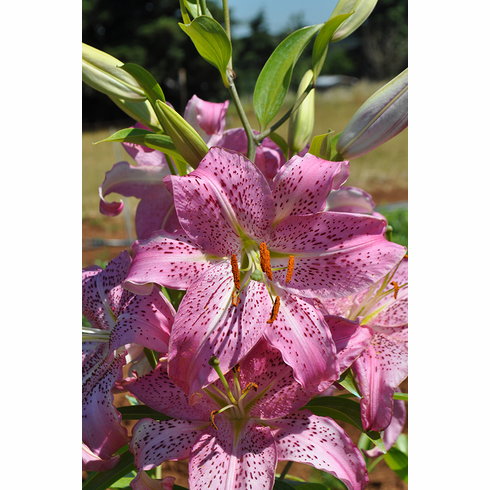 Peppermint Sprinkles - J. Mak Oriental
We have known Johan Mak for upwards of 30 years and one of the things I always found fascinating was that Johan was more interested in creating things of beauty rather than following the Hybridizing Herd, breeding only for greenhouse flower production. While Holland has worked for years to eliminate spots on flowers, bowing to the wishes of the cut flower trade, Johan has leaned towards the original species look to grace the garden.
In nature, there is only one species Oriental, L. nobilissimum, that is truly upfacing for a very simple reason. Butterflyies do not like perching on an upfacing flower as it leaves them exposed to birds. They prefer to go inside of, or hang from pendant flowers in order to protect themselves. In Holland, it is rare indeed, though the trend is finally changing somewhat, to find anything but upfacing Orientals in order to satisfy the florist demands. True garden gems such as 'Peppermint Sprinkles' that mimic the flowers of nature are rare.
'Peppermint Sprinkles' is one of those breeding masterpieces that adds the gentle, delicate, nostalgic look of the wild lilies to your garden. When seen for the first time, the thought of Peppermint Ice Cream came to mind, and what would ice cream be without sprinkles? A name was born.
Johan's report on this lily is that this stem grew from scales planted only 3 years earlier meaning it is a strong and fast grower. Already measuring at 55 inches this is going to be one of those garden giants so give her a little room as 4.5 feet in its 3rd year is a remarkable feat for a lily. The flowers are about 7 to 8 inches across, but for what some may see as a lack in size, 'Peppermint Sprinkles' more than makes up for in numbers. This photo was taken on plants growing in full field sun and she shows no fading nor browning of the petal edges in hot, direct sun. That having been said, we have always recommended that pink Orientals grown in areas that regularly exceed 80 in July / August, hold color best in light afternoon shade.
This is a mid to late July bloomer. Should run 5 to 6 feet, and perhaps more in light shade or when fully established. Fragrant. Limited Production - Estimated at 20 Bulbs.
Bulb Size
- Our standard for bulbs of this lily cultivar ranges from Premium-size (16/18 cm) to Exhibition-size (over 20 cm).
Classification: Oriental Hybrid Lily (USDA Zones 7b-9, lows to +5 F. Winter mulch recommended in the colder climates)
Stock # 7180 - 'Peppermint Sprinkles' - Pink / Spotted Oriental Lily Bulb
Related Items