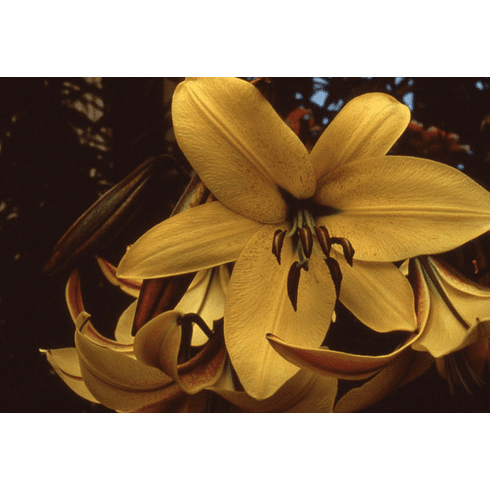 'Gold Eagle' - Aurelian Hybrid Lily
Flower Description.
Last offered in 2015, Gold Eagle is one of those "must have" all time favorites. This Aurelian hybrid (it contains L. henryi) has wide petaled, deep golden lemon-yellow flowers that have many delicate cinnamon-red, raised papillae in the bloom centers. 'Gold Eagle' was awarded the prestigious 'Award of Merit' at the 1986 NALS International Show.
Enchanting fragrance, often needs to be staked in the second year as the weight of the flowers promotes leaning. Heavy, full blooms that are good for cutting. Just leave at least 1/2 the leafy portion of the stem when doing so in order for the bulb fatten up for the following year. 6 Feet. when established. July / August Flowering. Fragrant.
As of 5:11 pm PDT 7/16/20, there is only one bulb left of Gold Eagle - Sold out 6:59 pm 7/16/20.
SHIPPING NOTE:
As this is a higher priced "collector lily", if by adding to an existing order or when included with other bulbs, should their price place your order in the next higher shipping category, we will be charging shipping at the same amount as if your order had not included this lily.
Bulb Size
- Our standard for bulbs of this Trumpet Hybrid Lily Bulb cultivar ranges from 14/16 cm to Exhibition-size» (over 20 cm). Click
here
for details.
Classification: Trumpet/Aurelian Hybrid Lily Bulb (USDA Zones 5-10, the colder climates of this range require winter mulching)
Stock #L6003 - 'Gold Eagle' - Aurelian Lily Bulb
Related Items